The Ultimate Guide to the Serengeti National Park
Have you long dreamed of exploring the endless horizons of the Serengeti National Park? This immense, magical place is teeming with wildlife and spectacular landscapes.
It's also the stage for one of nature's most jaw-dropping spectacles — the Great Migration.
At Roam Wild Adventure, we are specialists in Tanzania Safari Tours and Mount Kilimanjaro Climbs, so we know this incredible country inside out.
As one of the most popular settings for our safaris, we're perfectly placed to provide you with this ultimate guide to the Serengeti National Park.
If you have any questions for our team in the meantime, please don't hesitate to get in touch.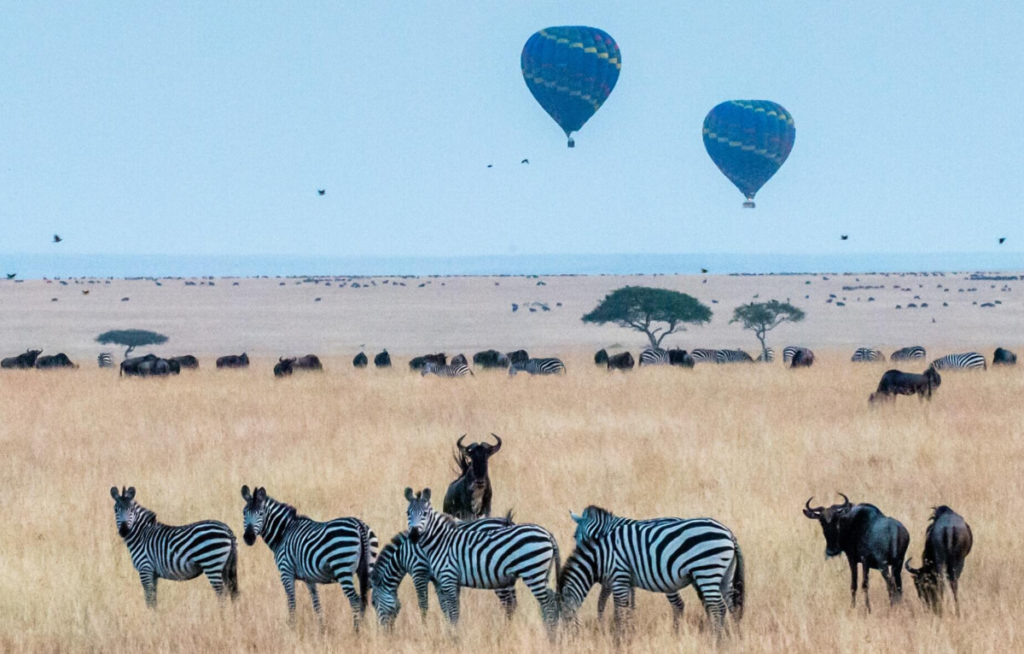 Why Should I Visit Serengeti National Park?
Put simply, the Serengeti is Tanzania's best national park for viewing wildlife. The Ngorongoro Crater runs it close, but the Serengeti's sheer size and diversity of animals make it more popular with visitors.
Of course, as two world-famous national parks, we recommend visiting both on your trip to Tanzania, as they both offer truly unique experiences.
With this in mind, our Ultimate Guide to Visiting the Ngorongoro Crater is another useful resource to help you in planning your trip to Tanzania.
In the Serengeti, you will find some of East Africa's most iconic animals. These include the Big Five (lions, leopards, elephants, buffalo, and rhinos) as well as giraffes, wildebeest, zebra, and many more.
People flock to the Serengeti from all around the world because it turns dream safaris into a reality. This is as true for the landscapes as it is for the animals.
This huge expanse of land is named after the Maasai word siringet. This roughly translates into English as "the place where the land runs on forever."
This perfectly encapsulates the endless potential for adventure and discovery that makes the Serengeti a one-of-a-kind destination.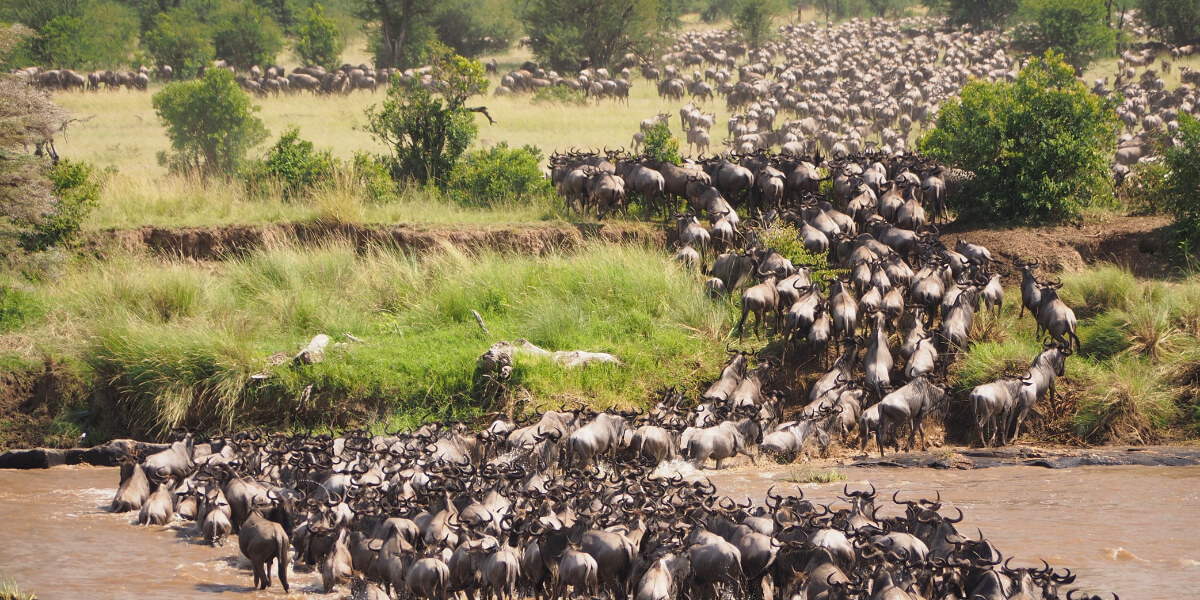 What is the Serengeti National Park Known for?
Tanzania's Serengeti National Park is also renowned for being the main stage for the Great Migration — a 1,200-mile circular journey involving millions of animals.
This immense herd — which includes wildebeest, zebras, antelopes, and other herd animals — flocks north before eventually crossing the border into Kenya's Masai Mara.
Within two to three months, the migration heads south again, passing back into Tanzania and the Serengeti.
One "lap" of this migratory circuit takes around a year, which explains why you may hear the migration described as an annual event.
The truth is, it's actually fluid and continuous. In essence, the process never stops.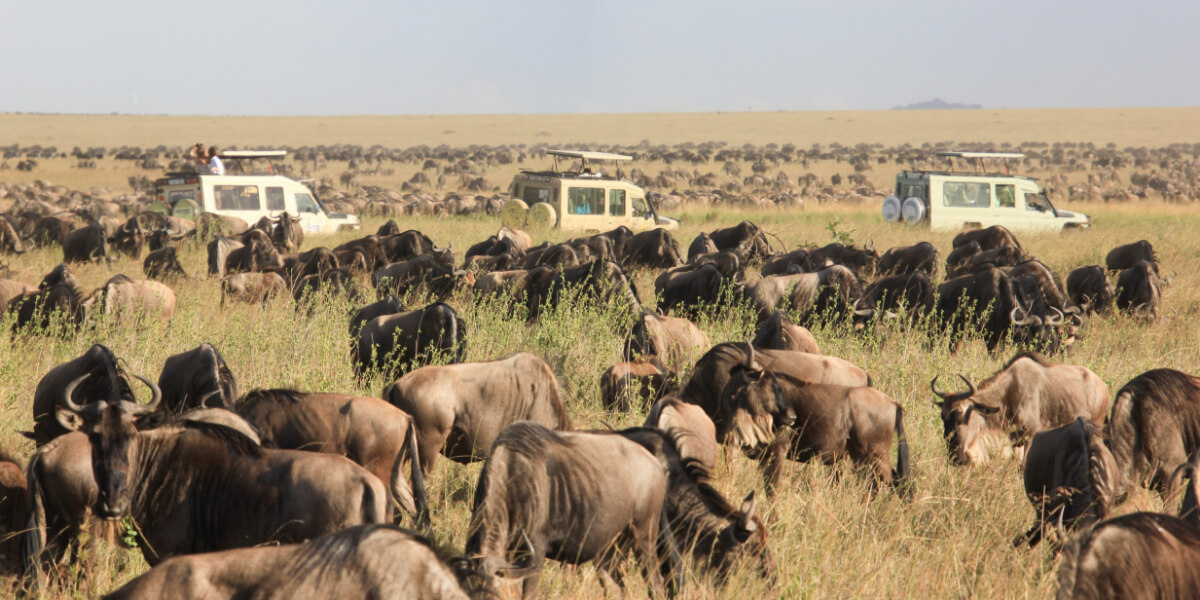 Should I Experience the Great Wildebeest Migration in Tanzania?
Given that the Great Migration takes place throughout the year, there are always opportunities to see it in action.
Naturally, though, some parts of the year are more awe-inspiring and iconic spectacles than others.
There's no doubt that the most exhilarating months of migration occur in the Serengeti.
Calving season takes place in the southeast of the park between December and April. This is when the herd of animals slows to feed on lush grasses and give birth to calves. Of course, this is a magnet for predators.
Having gained strength and numbers, the herd sets off in search of fresh grazing again.
It's during this period that you can see one of the world's greatest natural phenomena: millions of marching animals stretched out in a column as long as 25 miles.
This is also when you can see a wildebeest river crossing in the Serengeti. In this part of the Great Migration, the herd crosses both the Grumeti and Mara rivers, where they face a healthy population of oversized crocodiles!
The Mara River, in particular, is where the most famous wildebeest river crossing photographs are taken.
Given that the most action-packed section of the journey takes place in the Serengeti, it's a fantastic place to experience the Great Migration.
And for even more peace of mind, Roam Wild Adventure is dedicated to sustainable tourism in Tanzania.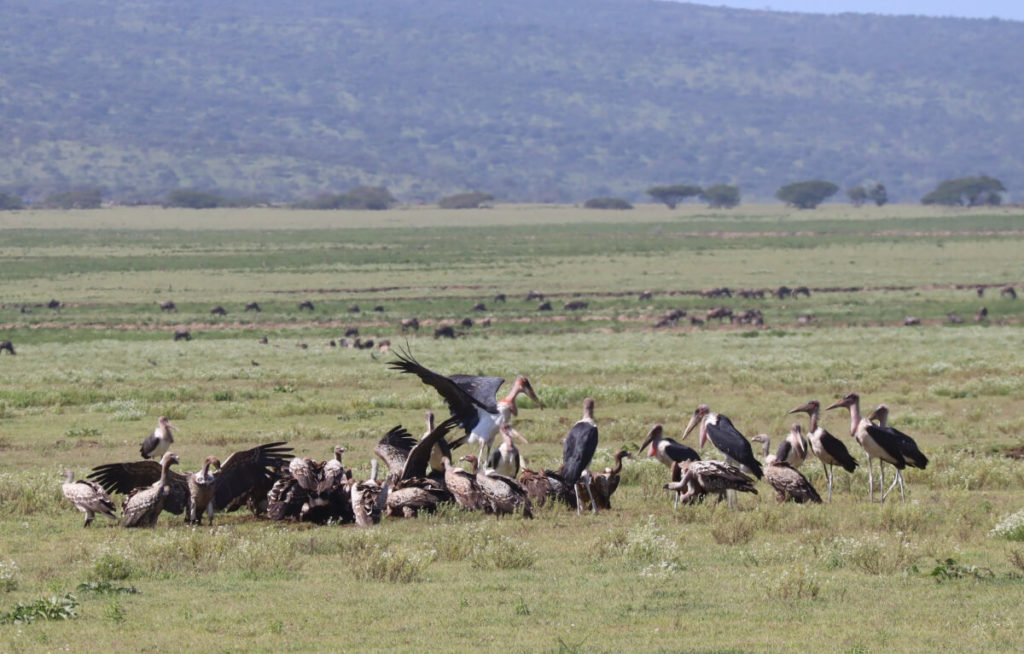 The Birds of Serengeti National Park
More than 500 bird species have been recorded in Serengeti National Park, so it's also hugely popular with birders too!
Some of the biggest draws are the ostrich, Kori bustard, African Fish Eagle, secretary bird, and Fischer's lovebird.
Numerous vulture species call the Serengeti home too.
And various bird species are endemic to the region, meaning you can't see them anywhere else in the world. These include:
Grey Throated Spurfowl
Schalow's Wheatear
Schalow's Turaco
Red Throated Tit
Rufous-Tailed Weaver
Grey-Crested Helmet Shrike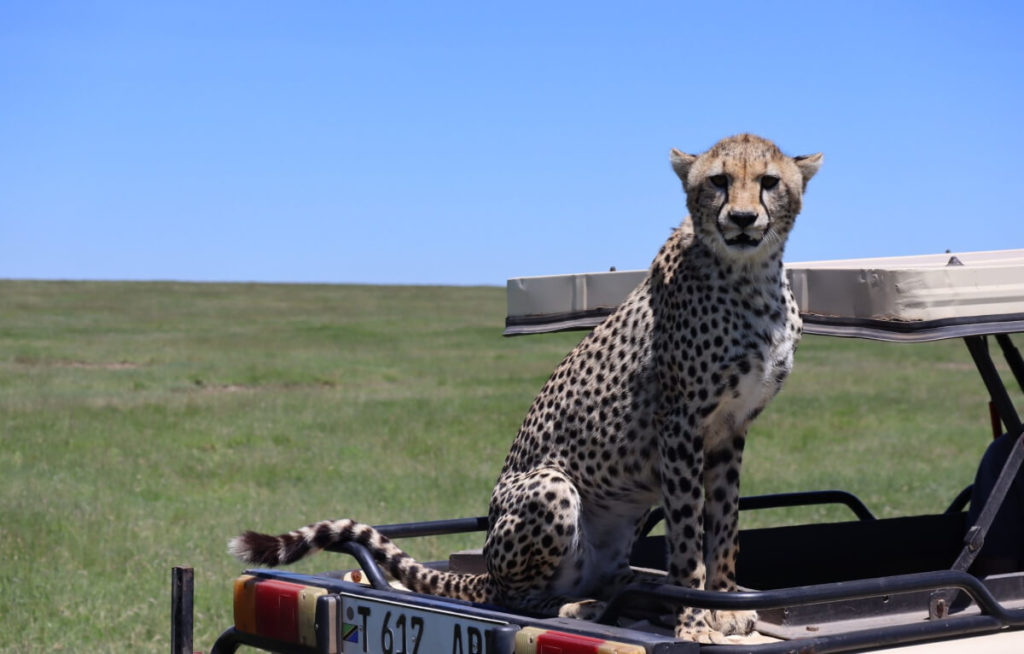 Big Cats in Serengeti National Park
Do you want to see big cats in the wild on your Tanzanian safari? The good news is that the Serengeti is home to the three most popular species: lions, leopards, and cheetahs.
There are around 3,000 lions in the park, all of which fall into approximately 300 prides.
The number of leopards is around 1,000, while cheetahs total about 300.
You can see all of these big cats on our Tanzania safaris!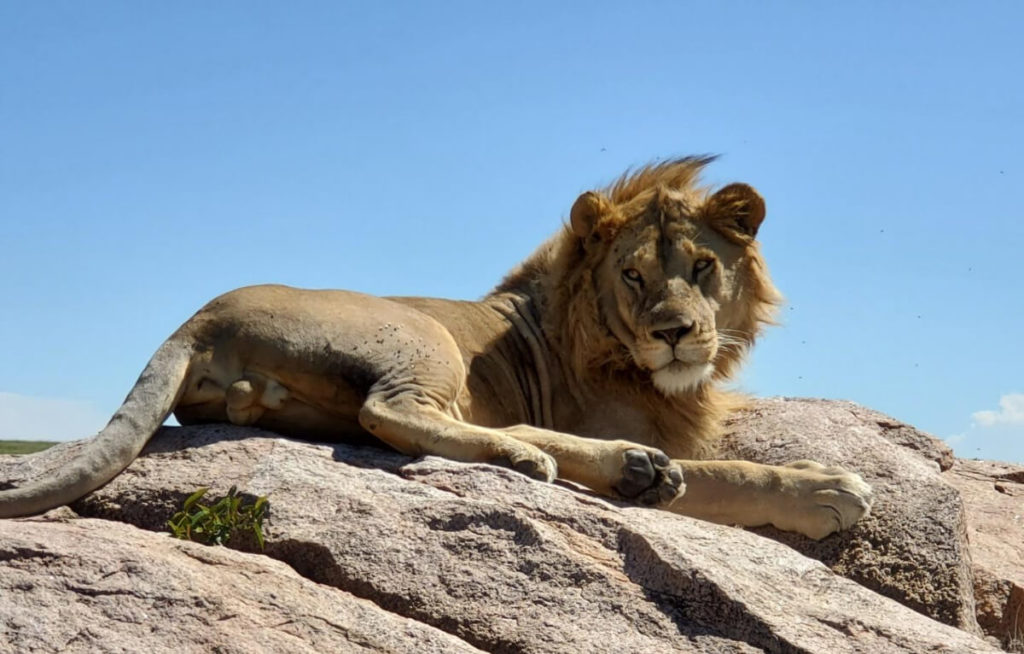 What is the Best Time to Visit Serengeti?
Having covered the most popular time to visit regarding the Great Migration, we will answer this question in relation to the weather of Serengeti National Park.
The seasons of the Serengeti are broadly classified into dry and wet.
Between May and August, the region is generally dry and cool. In September and October, the dryness continues, but the temperatures become warmer.
These dry periods combined tend to offer peak wildlife-viewing opportunities. As such, many people consider this the best time to visit.
The wet season then runs from around November to April, with temperatures remaining hot.
The wildlife viewing is always good in the Serengeti. But the combination of dry, comfortable weather and the peak of the Great Migration in June and July makes it easy to recommend as the best time to visit the Serengeti.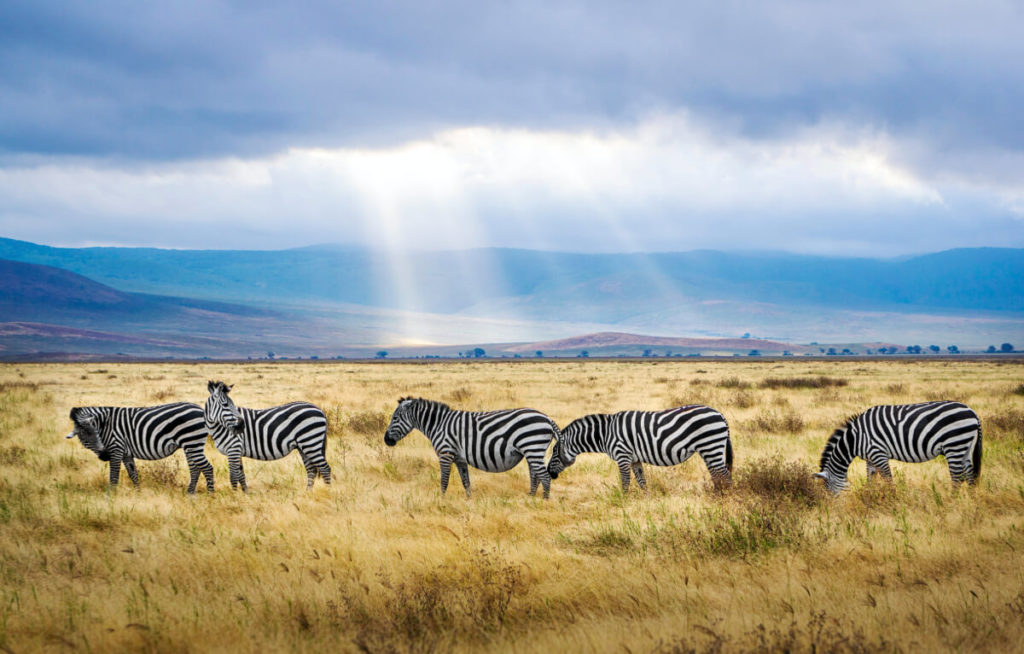 How to Plan a Trip to Serengeti National Park
Knowledge is the key to planning an unforgettable trip to Serengeti National Park. For example, you need to know the best time of year to see the kind of sights you've always dreamed of.
Understanding locations within the park is also important. The Serengeti is enormous. It covers an area of 14,763 km² and has four distinct regions:
Central Serengeti (Seronera)
Southern Serengeti
Western Corridor
Northern Serengeti
With so many considerations, the best way to plan a trip to Serengeti National Park is with local experts like the team at Roam Wild Adventure!
We love showcasing everything that Tanzania has to offer, including the unrivaled wonders of Serengeti National Park.
Because we want you to fall in love with this incredible country as we have, we go above and beyond to simplify your holiday.
While we do the legwork, you can focus on making memories that will last a lifetime.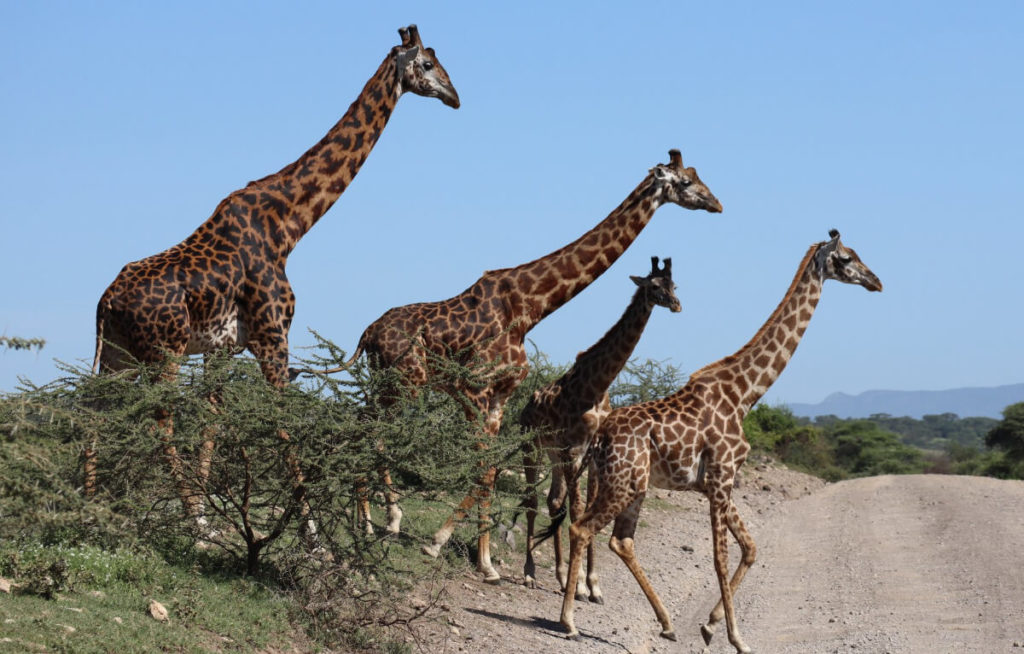 10 Best Luxury Safari Camps and Lodges in the Serengeti
If you want to enjoy the Serengeti in luxury, some of the best safari camps and lodges include:
Singita Sasakwa Lodge
Mwiba Lodge
Namiri Plains
Sanctuary Kichakani Camp
Bushtops Luxury Tented Camp
Lamai Camp
Singita Faru Faru Camp
Lemala Nanyuki
One Nature Nyaruswiga
Sayari Tented Camp
Between 150,000 and 200,000 people visit Serengeti National Park every year, so there are plenty of accommodation options to suit every preference and budget.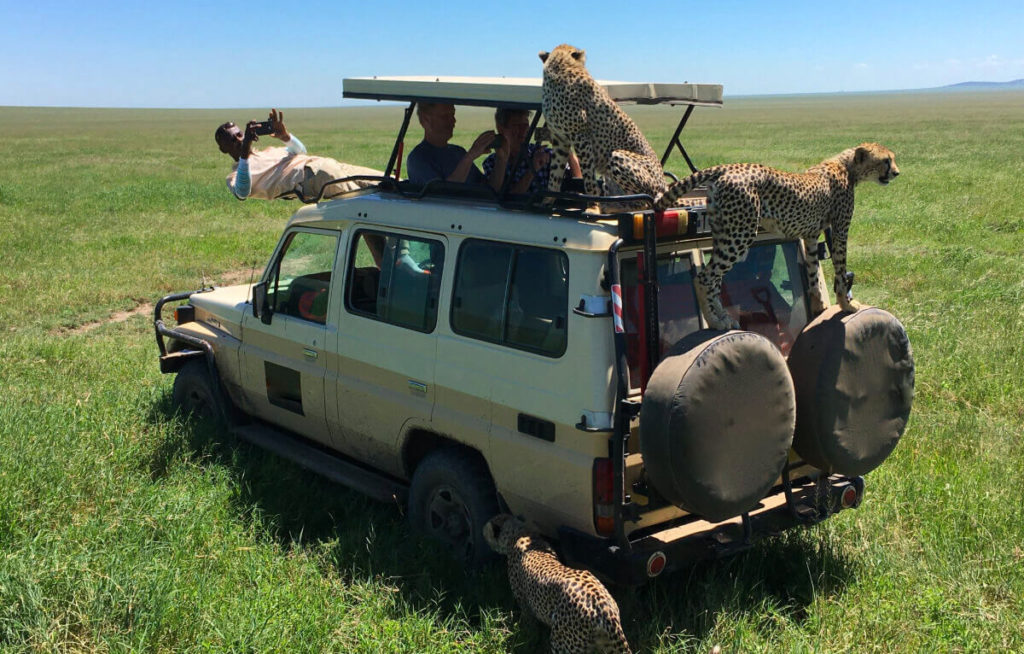 Bring Your Dream Safari to Life with Our Tours in Tanzania
We hope this ultimate guide to the Serengeti National Park has provided all the information and inspiration you need to start planning a safari in Tanzania.
For even more travel inspiration, browse our range of Tanzania safari packages.
If you have any questions about our safari tours or anything mentioned in this guide, please feel free to contact us.