Sustainable Tourism in Tanzania
Sustainable Tourism in Tanzania
More than 30% of Tanzania is covered by national parks. It just goes to show how important nature is to this small African nation. People around the world may not know much about the country, but they'll immediately recognize a picture of the world-famous Serengeti or Mount Kilimanjaro.
Have you ever wanted to visit Tanzania yourself? Perhaps you've always wanted to go, but you're worried about the impact your travel might have. Thankfully, a visit to Tanzania doesn't have to be damaging.
Want to learn more about sustainable travel to Tanzania? Read on. We'll explain how you can make the most of sustainable tourism in this beautiful wilderness country.
Beautiful Tanzania Awaits!
Tanzania is a truly magnificent country, packed with unspoiled environments and a variety of national parks. The landscape of Tanzania is broad and fascinating. Ranging from humid rainforests to snowy mountain peaks and everything in between, it's a varied nation that plays host to so much biodiversity.
This is a developing country, where many people live without the same facilities and opportunities as those in Western countries. But the Tanzanian people are friendly and welcoming, and their culture is rich and fascinating.
Two of the world's most famous natural landmarks are located in Tanzania, although most people don't realize it. These are Mount Kilimanjaro and the Serengeti. Each one is a unique world treasure, filled with amazing sights and experiences.
Kilimanjaro
Many people don't know this, but Mount Kilimanjaro is a volcano! Thankfully, it's dormant, so there's no risk of an eruption.
The highest mountain in Africa is also one of the continent's main tourist attractions. We offer a selection of climbs to the summit, ranging from six to nine days in length and covering a wide variety of routes.
The views along the way are unparalleled. You'll see the landscape stretching out below you like a painting. You're also likely to see lots of mountain wildlife along the way, including the Columbus monkey, aardvark, and tree hyrax.
You'll have to train hard to conquer Kilimanjaro. The ascent is steep and the air gets thinner the higher you go. But the mountain is fully walkable with no technical mountain climbing required, so as long as you have a reasonable degree of fitness, you'll be able to meet this challenge with our help!
All our porters and guides are well-trained and fully certified to keep you safe.
Reaching the summit is an unparalleled achievement. The knowledge that you've pushed yourself and conquered a great natural obstacle just can't be beat!
By booking a climb with us, you'll be helping porters and guides on Kilimanjaro to make a good living for themselves and support their families. Tipping on Kilimanjaro is another great way to support local people.
The Serengeti
The Serengeti covers around 12,000 square miles of land across northern Tanzania. There's a huge variety of animals to be seen here. With over 70 species of large mammals and more than 500 birds, it's a feast for the eyes.
Take a safari in the Serengeti National Park for the opportunity to get up close and personal with these magnificent beasts. You can choose from our variety of safari packages, ranging from two to five days in length.
Here, you'll have the chance to see elephants, mountain lions, and many more. If you visit at the right time of year, you could see the great migration of wildebeest across the plains, or see alligators hunting in the river.
A safari is so much more impressive than a visit to a zoo. Instead of seeing animals in a small enclosure, you'll see them in their natural habitat. Whether they're feeding, drinking from a waterhole, or migrating across the land, it's an experience not to be missed.
The Serengeti is also famous for its colorful sunsets. Be sure to bring your camera and try to capture the trees silhouetted against the stunning orange and red skies.
Many famous films and nature documentaries have been made in this national park. If you're a fan of David Attenborough, you'll definitely want to visit this place.
Enjoying a safari is one of the best ways to support the local environment. The money you spend on this trip helps preserve the national parks where these animals make their homes, as well as providing local people with a financial incentive to care for this pristine natural area.
The Impact of Travel
Travel is a wonderful thing. It allows people to experience other cultures and environments and exposes them to new perspectives. Mark Twain once said that "travel is fatal to prejudice, bigotry, and narrow-mindedness."
Unfortunately, travel comes with its downsides, too. Air travel is a huge cause of emissions, and tourists visiting foreign countries often leave behind litter or cause damage to local plants.
When people travel without care for the environment, it can have a huge impact on native people and their surroundings. Pollution and environmental destruction can ruin lives and the local economy.
Luckily, there are plenty of ways to reduce the negative impact of travel. We've worked hard to ensure people can enjoy visiting Tanzania without damaging the natural world.
Reducing the Impact With Sustainable Travel
We're dedicated to protecting the environment of Tanzania and the world at large. Our company is founded on a philosophy of sustainability, and we work hard to consider the environment in everything we do.
Sustainability is one of our most important principles. The world doesn't exist just to be used up. When we treat the planet well, it will be around for future generations to enjoy. We are partnering with local non-profit groups who are planting trees in the Mt. Kilimanjaro region to reforest the area. We are donating one tree for every tourist we bring to the mountain and you can help us to keep Kilimanjaro thriving!
When you take a tour with us, our guides will explain how to enjoy your trip without damaging the local environment. When the group leaves, it will be as if no one had ever been there.
Some tourist areas around the world have been inundated by tourists. Although responsible tourism is a great thing for a local economy and can provide funding and incentives to protect local nature, too much footfall can sometimes be damaging. We're careful not to overbook trips, making it easy for us to avoid damaging local plant life.
Helping Local People
We don't just work to help the natural environment of Tanzania. We also strive to improve the lives of Tanzanian people, many of whom live without electricity and other basic facilities.
Ethical tourism is a vital part of the local economy. Many jobs in northern Tanzania are sustained by visitors bringing in money from abroad. Without tourists coming to see the country, many people in the area would find themselves without work and lacking opportunities in life.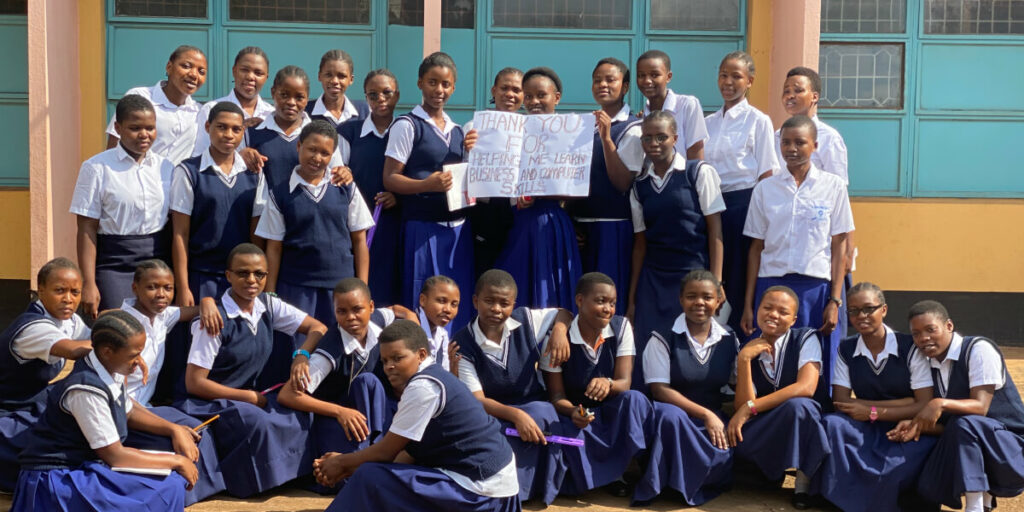 As a socially responsible business, we do our utmost to take care of local people. That means ensuring the guides, porters, and others we work with are well paid and taken care of. We aim to become a member of the Kilimanjaro Porters Assistance Project (KPAP), which has improved the lives of mountain porters through various projects since its founding in 2003.
We also provide financial help to various projects across the country. We've supported local schools and projects in nearby villages. We're proud to play a part in improving the lives of Tanzanian people, but we couldn't do it without the folks who book tours with us.
Our Eco Credentials
We're a member of the non-profit group Leave No Trace. That means we're dedicated to helping people see Tanzania without having a negative ecological impact.
We're also part of the Adventure Travel Trade Association (ATTA), which is a leading voice for responsible travel in the region. Through research and education, ATTA helps businesses and communities thrive in partnership.
We've trekked Kilimanjaro and enjoyed Serengeti safaris ourselves. We were so touched by the sheer beauty of Tanzania that we established our company to allow others to enjoy socially responsible travel and raise awareness of ecological issues and sustainability.
Everything we do is centered around ethical travel to ensure future visitors have the chance to visit Tanzania safely and responsibly. To prove our commitment, we are in the process of obtaining our sustainable tour operator certification from Travelife, the premier sustainability teaching and certification authority.
Book An Ethical Trip to Tanzania Today
Seeing all the beauty of Tanzania is something that everyone should experience at least once in their lives. When you can do it in a sustainable way, while helping improve life for people in the country, you can enjoy yourself safe in the knowledge you're causing minimal harm to the planet and even helping local communities.
Sustainable travel to Tanzania is right at your fingertips! Whether you want to scale Mount Kilimanjaro or tour the beautiful wilds of the Serengeti, we can make it happen.
We've got years of experience in helping people just like you to enjoy this brilliant nation. Contact us today to discuss your needs and find out more about how you can enjoy Tanzania tourism.