Tipping Etiquette on a Kilimanjaro Climb – How Much Is Right?
Climbing Mount Kilimanjaro is an adventure of a lifetime, but it's not without its challenges. At 5,895 meters (19,341 feet), the trek to the summit is physically demanding and mentally taxing. Fortunately, the local guides and porters are there to make the climb easier and safer. They are an integral part of the Kilimanjaro experience, and tipping them for their hard work and dedication is not just customary but expected. One of the most important things to consider as part of your Kilimanjaro trip planning is tipping etiquette.
Tipping can be a sensitive subject, especially for visitors who are unfamiliar with the practice. However, in Tanzania, where Kilimanjaro is located, tipping is an essential part of the local economy and can be an important source of income for the porters and guides. As such, tipping is an excellent way to show appreciation for the remarkable assistance of the porters and guides, who work tirelessly to ensure that climbers reach the summit safely. In this guide, you'll learn what types of tips you should give to the various members of the crew for your climb and find out how much you should tip for each person.
Although the expectation to offer tips may not come as a big surprise, the emphasis and procedure around tipping may indeed be a bit of a shock.  This is especially true if you come from a country or culture where tipping is not the norm. As you prepare for your climb, it's important to keep in mind the cultural norms around tipping for porters and guides. But if you're not used to tipping, the process can seem a bit overwhelming. How much should you tip? Who should you tip? When should you tip? These are all valid questions, and it's important to understand the guidelines before you set foot on the mountain.
Guide to Tipping: Porter, Cooks, Waiter, Waitress, and Guide(s).
First, let's talk about whom you should tip. On Kilimanjaro, you will have a team of guides and porters who will accompany you on your climb. These individuals work hard to ensure your safety and comfort, carrying your gear, setting up your tent, and cooking your meals. It's customary to tip each member of your team individually, based on their role and level of service.
So how much should you tip? The exact amount will depend on a variety of factors, including the length of your climb, the size of your team, and the level of service provided. You will find that the level of service provided by Roam Wild Adventure exceeds the norm for a Kilimanjaro climbing outfitter. We pay close attention to detail to ensure our guests are happy and safe.
You can expect to tip around $20-30 per day for your lead guide, $15-20 per day for your assistant guide, and $10-15 per day for your porter. The guideline is that 10-20 percent of your total climb cost should be offered as a tip. For example, if your trip has cost you $2,500 in total then the amount of money you should distribute as a tip would be $250-$500. Of course, you may choose to go above and beyond this suggestion – but this number serves as a general basis for how much money to plan for tipping during your adventure on Kilimanjaro.
What is Different About Tipping on Kilimanjaro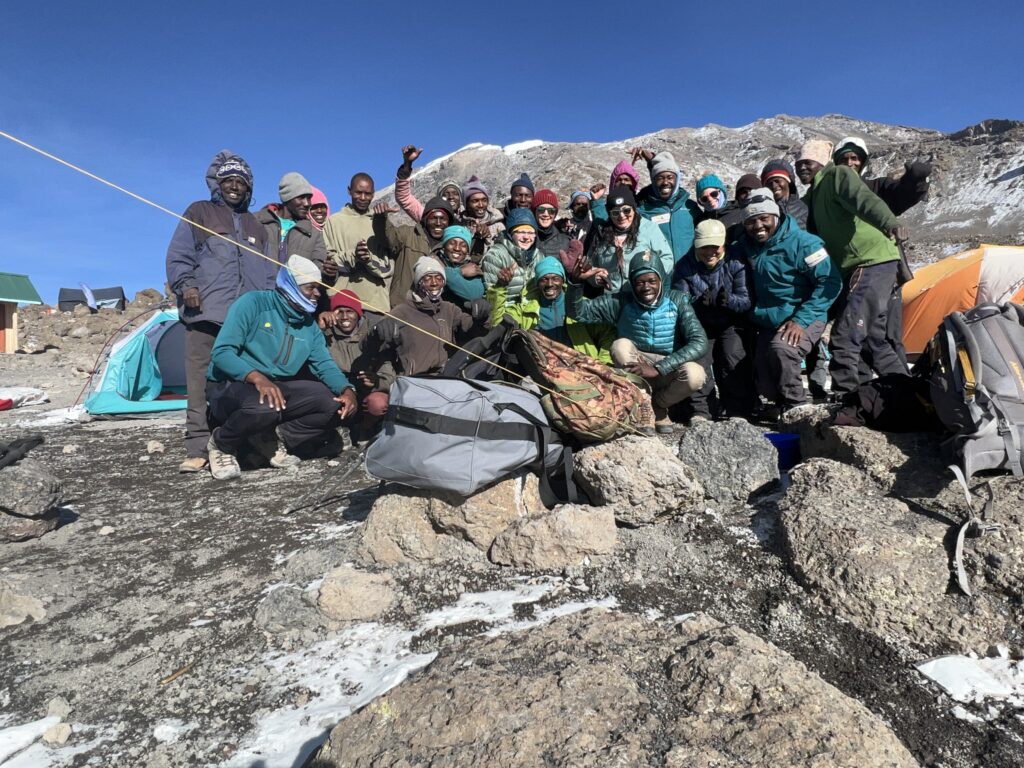 What makes the tipping guidelines on Kilimanjaro different than tipping porters and guides in other mountain trekking locations is the fact that on Kilimanjaro all of the equipment, food, and water are carried by hand by the porters. Once you witness this sight, you will understand the magnitude and difficulty the work entails as a porter. Climbing Kilimanjaro as a guest carrying a 10-15 lb. daypack can be challenging enough but imagine carrying a heavy and bulky load of tents or cooking equipment over steep and at times dangerous terrain, and you can easily understand why tips are so appreciated. The crew are a crucial component to a successful Kilimanjaro summit, and they perform their work with welcoming smiles, kind words, and always with a helping hand.
As a standard rule of thumb, we, and most other tour companies in Kilimanjaro, quote the ratio of porters to client as 3:1, although, this number can occasionally be more. Factors to consider are:
The number of guests in the group
The number of days on the mountain (in case re-supply is needed)
Any special requests that may need to be accommodated
Weather conditions
Extra assistance (particularly for the summit push)
Trekking on Mt. Kilimanjaro requires quite a large crew. For instance, a group of 5 people may have 23 crew members assigned to the trek, which include the lead guide, assistant guides, chef, and porters. For this reason, tips for a Kilimanjaro trek are generally higher than for other treks you may have been on.
Why Are Tips Not Included in the Tour Cost?
We don't include tips as part of your trekking cost for several reasons. Most importantly is because the tipping process needs to be completely transparent. If we were to collect tips as part of the package cost, we may be accused of not distributing the costs to the porters fairly. We aim to become a member of KPAP, the Kilimanjaro Porters Assistance Project, which is the organization created to ensure that porters are treated fairly. As such, we follow their standard procedure for tipping.
The Tipping Ceremony.
The tipping ceremony is a special event that occurs at the conclusion of the trek. Earlier on during the trek, the lead guide will introduce every member of the crew to the guests by name and then proceed to kick off the "Jambo" song welcoming you to Kilimanjaro. This event involves dancing and singing and is one of the most memorable and favorite parts of any climb, according to many past guests. Then, on the last day of your trek, after you've arrived back at your hotel, the tipping ceremony will take place (usually accompanied by food and a cold beverage 😉).  A form containing the names of all the crew members is passed around to the guests and each person writes how much tip money he will give to whom next to each crew member's name. The tips are placed in envelopes and then a representative for the guides and one for the porters will distribute their tips in full view of the others.
Assess the Quality of Services and Utilize Team Feedback.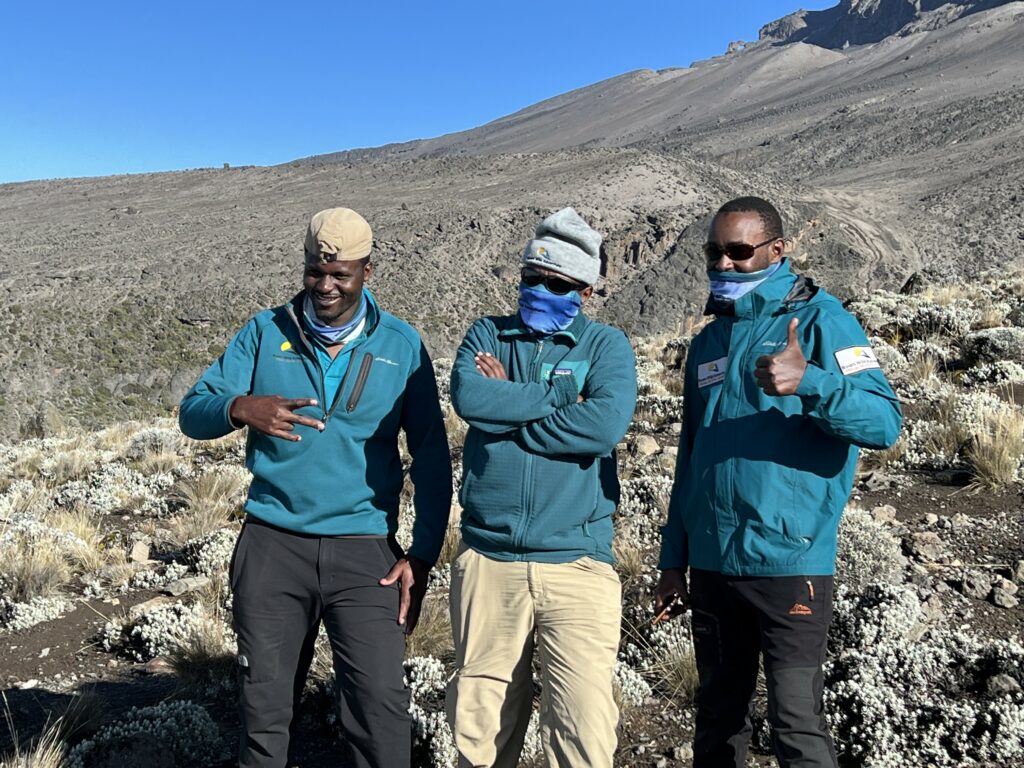 When it comes to deciding how much to tip, it's important to assess the quality of services you received from your team during the climb. Were you satisfied with their performance? Was the food good and were they adequately equipped to handle any unexpected situations? Remember, what is considered an appropriate amount for everyone will differ, so it's important to consider your own opinions and any feedback received from other members of your team. It is also important to not allow yourself to be intimidated or feel coerced to add or subtract from giving a tip that you feel comfortable with.
At Roam Wild Adventure, we strive to provide the highest quality service, and while some outfitters are ok with cutting corners to save their company money, we focus on excellence to maintain our high standards. Our food is hand-selected and prepared by our chef. Our porters are selected for their work ethic and commitment, and our guides are chosen for their expertise, knowledge, and competency.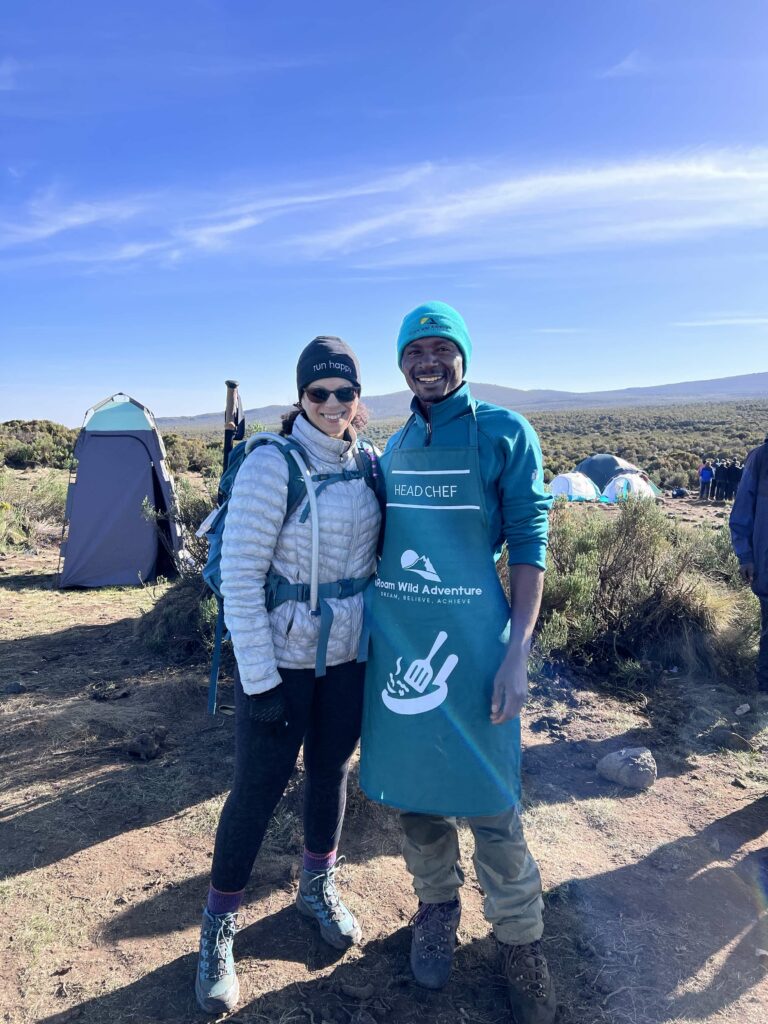 Consider the Culture and Economy of Tanzania and Your Own Financial Situation.
In recent years, there have been efforts to increase awareness about the importance of fair treatment and pay for Kilimanjaro porters and guides. One such effort is the Kilimanjaro Porter Assistance Project (KPAP), a nonprofit organization that works to improve working conditions for porters on the mountain. KPAP has created a set of standards for the ethical treatment of porters, including minimum wage requirements, proper gear and equipment, and safety training.
If you're planning a climb up Kilimanjaro, it's important to choose a climbing company that follows KPAP rules. These companies are committed to treating their porters and guides with respect and fairness and are more likely to provide you with a positive climbing experience overall. In addition, KPAP provides a tipping guideline that takes into account fair wages for porters and guides, so you can be sure that your tips are making a meaningful impact. As a young company, we are working on obtaining KPAP certification, but we can assure you that in the meantime, we pour our heart and soul into taking care of our crew.
It's also important to be mindful of the weight of your gear and equipment. Porters on Kilimanjaro often carry loads that are heavy, putting them at risk for injury and exhaustion. As a responsible tourism company, Roam Wild Adventure ensures we provide proper gear and equipment for all our porters and don't allow them to carry more than 15kg. And as a responsible climber, you can help by packing light and following the guidance of your lead guide to ensure the safety and well-being of the team.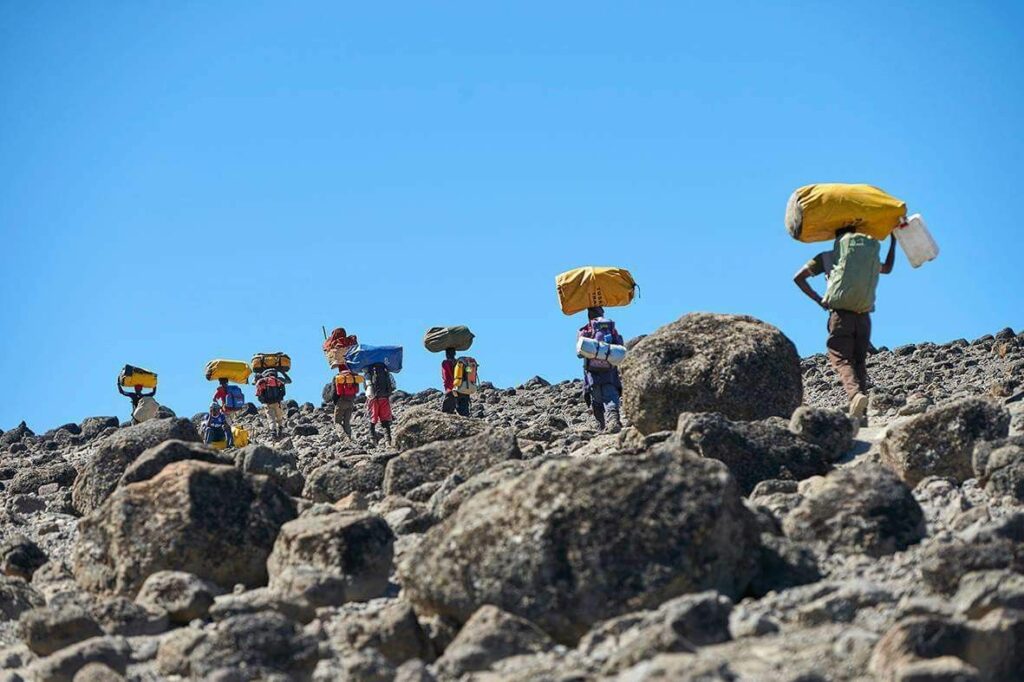 Other Tips to Keep in Mind When Climbing Kilimanjaro.
Aside from the tipping etiquette, you should also keep certain things in mind when climbing Kilimanjaro. Make sure you are well prepared and physically fit for the climb and that you have all the necessary first aid supplies, clothing and equipment. Here is a handy guide to training and preparation for Kilimanjaro.
Additionally, be mindful of both your conduct and behavior on the mountain; respect for porters, climbers, staff and nature is expected of everyone on the mountain. Finally, always bear in mind to leave no trace behind by not littering or polluting the environment.
In conclusion, tipping on Kilimanjaro is an important part of the climbing culture, but it should always be accompanied by fair treatment and pay for porters and guides. By choosing a responsible climbing company and being mindful of the weight of your gear, you can help support a positive and ethical climbing industry on Kilimanjaro. Tipping is not just about showing appreciation for good service, but also about supporting the local economy and promoting fair treatment for all workers on the mountain. So, when planning your Kilimanjaro trek, take the time to research your climbing company and tipping guidelines to ensure that your climb is not only unforgettable but also ethical and responsible. Our focus on treating our crew well is what makes Roam Wild Adventure one of the best trekking outfitters on Kilimanjaro.
Ready to start preparing for your Mt. Kilimanjaro Climb? Contact us and we will help you every step of the way!