How to Choose a Kili Tour Operator for Your Visit
Climbing Mount Kilimanjaro is a once-in-a-lifetime experience. Not only will you climb up to heights you've never been to before, but you will also be immersed in a completely new cultural experience.
Kilimanjaro is part of the famous Seven Summits challenge, summiting the highest mountain on all seven continents. It is the tallest free-standing mountain in the world and the highest mountain in Africa, standing proud at 19,341 feet.
Because this mountain is so famous there are many competing tour operators to choose from to get to the summit.
Having the right guide company is essential when climbing Kilimanjaro. There are many services out there each with years of experience, so who do you go with?
Check out this guide for how to choose the best Kili tour operator for your trip.
Certified Mountain Guides
The tour company you go with must employ certified mountain guides. Each country has different requirements that qualify its guides as legitimate, so keep that in mind.
You want to book a Mount Kilimanjaro guided tour with mountain guides who have years of experience and high customer ratings. This might be a given, but sometimes people book a company solely based on the cheap price and don't do a guide background check.
This is so important to ensure your safety on the mountain, especially because this mountain requires high-altitude experience or training.
Look for the "about us" or "our guides" section on each Kilimanjaro tour website and make sure that their mountain guides have years of experience. Online review forums are also incredibly helpful when learning about tour guides from a past client's perspective.
At Roam Wild Adventure, our guides have up to 18 years of experience leading successful climbs on Mt. Kilimanjaro. We ensure that they undertake refresher training every year and become re-certified every 3 years to ensure they are maintaining their skills and becoming up to date on the latest sustainable tourism procedures and are in accordance with Leave No Trace principles.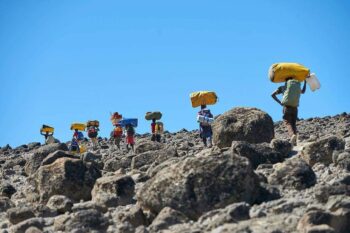 Our guides and porters are like family to us so we strive to take care of them by providing ethical treatment and better than fair wages. We are implementing an education fund program to provide educational assistance for guides, porters, and their families. We believe everyone we work with should have the opportunity to further their education and better their lives.
Price
Climbing high-altitude mountains can be expensive. Choosing a safe company with reasonable prices is ideal. Don't be fooled by tour companies who offer ridiculously low prices, because you will most likely end up being disappointed in the level and quality of service, and in a worst-case scenario, safety could be compromised to meet the low standard costs.
When planning your budget for your Kilimanjaro climbing tour, keep in mind that you are required to tip your guides and porters on this mountain. The porters and guides work incredibly hard, yet they do it with joy and perseverance. They are so helpful and are critical in making your Kilimanjaro climb a success. They are the first to celebrate your accomplishment with cheers and applause when you reach the summit.
Most times, the tour is less expensive if there are more people in your group. This doesn't mean that you have to bring your whole office with you to Africa, but you can request to be put in a larger group with other solo climbers for a price reduction.
On average, Kilimanjaro tours cost around $2,000 to $4,000 depending on what's included in your package.
There are also options to pay much more than $4,000 if you request a private trip, a longer route, and a multi-day safari.
A typical guide and porter tip ranges from $200 to $1,000 depending on the service you received, how many porters were required for your group size, and how much you liked the service.
Although climbing Kilimanjaro does not break the bank, you still need to save up to climb this high mountain.
High altitude mountains can cost upwards of thousands of dollars, so the price of a Kilimanjaro trip compares favorably to other tour prices.
Services Included
The price you pay for your Kilimanjaro tour is most likely based on what is included in your trip package. This may also be a deciding factor for you when choosing tour companies.
Here are a few factors to look for when researching what's included in different company's packages:
Flight
Airport transfer
First and last night hotel accommodations
Food
Food porters
Bag porters
Tent
Water
Safari
Most of the time, flights are not included in Kilimanjaro tours. If the flight is included, then the price will likely be higher than other companies' prices.
It is important to factor the price of a flight to Africa into your Kilimanjaro experience. Depending on which country you are flying from, it may be a pricey flight.
Most companies include their client's food in the price and even set up their own mess hall tents for serving meals at each different camp.
Most companies will also include porters to carry both the food for the tour and the client's bags. They don't use horses or mules on this mountain, but the porters themselves carry their client's backpacks on their heads.
Companies typically include carrying the client's tents for them as well. If a tent is not included in the price, we recommend going with another company.
Water is one of the most important factors in not getting sick on tall mountains. Make sure all water is provided and treated on your Kilimanjaro trip, as we do at Roam Wild Adventure. Drinking untreated water can cause severe stomach issues.
Lastly, it is highly recommended to take a safari after your Kilimanjaro journey. The Serengeti, Tarangire, and Ngorongoro Crater National Parks are world-famous for safaris and very close to the mountain.
A trip to Kili almost goes hand-in-hand with a safari adventure. You don't want to miss this once-in-a-lifetime experience, and we can arrange a safari tour add-on to your Mt. Kilimanjaro trek.
Routes Offered
There are 7 main routes up to the Kilimanjaro summit. Not all companies offer tours up all 7 routes, so do your research and decide which is the best for you before you pick a tour company.
The most popular routes to the Kili summit include Machame, Marangu, and Lemosho.
The other routes are Rongai, the Northern Circuit, Shira, and Umbwe.
The Machame route is the most popular and one of the steepest routes up the mountain. It takes 6-7 days depending on the client's pace.
The Marangu Route is the oldest and most established route up to the 19,341-foot summit. It usually takes 5 days to complete.
The Lemosho route is a newer, more remote route with some of the best views and scenic landscape. It also has the highest success rate, as its profile lends itself to a more gradual climb with more time to acclimate to the high altitude. This route does tend to become a bit crowded for a short time when it links up with the Machame route towards the end. It takes 6-8 days to complete.
Choose your Mt. Kilimanjaro guided tour depending on which route you want to climb and how much time you have.
Climbing Kilimanjaro Tour Operators
Climbing Kilimanjaro is an exciting, once-in-a-lifetime experience. Not only will you climb to new heights, but you will also experience a new culture. Choose which Kilimanjaro climbing tour is best for you using all the tools provided above.
Make sure to look for guide credibility, affordable pricing, and what services and routes the different companies offer.
Feel free to contact us for any further Kilimanjaro climbing questions!